The Armed Forces of the Philippines(AFP) Rapid Deployment Forces:

The Philippine Marine(PM) Corps has a strength of about 10,000 men divided into five(5) brigades. The Marine units include four(4) infantry maneuver brigades, composed of fifteen(15) tactical infantry battalions and one(1) heavy weapons brigade(composed of 105mm howitzer, 106mm recoiless gun, amphibious vehicle(LVT) and armoured units). Two(2) of the marine battalions have specialized roles: The Force Reconnaisance(Recon) battalion is used for very rapid airlift to troubled areas. This Recon battalion is also trained in shipboarding attack. On the other hand, the Marine Guard battalion is used for urban warfare and defending installations. The Philippine Marines(PM) is considered the shock force of the Philippine Armed Forces and will be the first unit to be involved in any amphibious or seaborne clashes.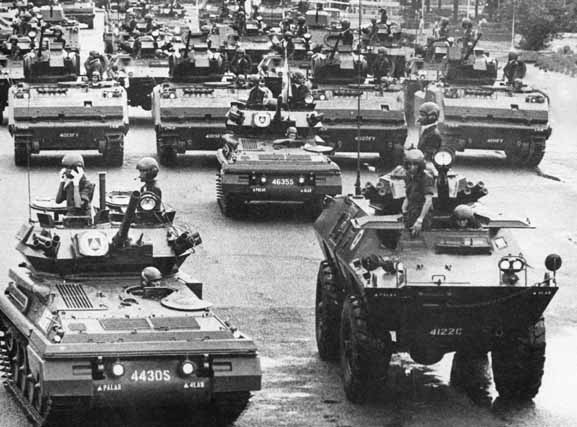 Filipino Armoured Column on the move including Philippine Army(PA) Scorpion Tanks, Armoured Infantry Fighting Vehicles(AIFV), V-150 Commandos, and M-113 Armoured Personnel Carriers(APCs).
Philippine Marines clambering down the side of a Philippine Navy(PN) LST ship for amphibious maneuvers in Manila Bay.
Side view of a Cadillac V-300 Commando amphibious Fire support Armored Vehicle(FSV) armed with a 90mm gun. This Armored vehicle is in service with the Philippine Marines.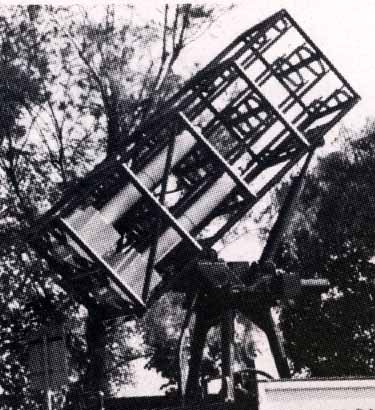 Six-barelled 110mm Artillery Rocket System of the Philippine Army(PA) designed and manufactured in the Philippines. There is also a 180mm Artillery Rocket System.
Supporting the marines is the Philippine Navy Special Warfare Group(SWAG) whose main unit is the Philippine Navy SEAL(Sea-Air-Land) Brigade. The SEAL brigade is divided into thirty(30) SEAL teams. Philippine Navy SEAL basic training lasts six months and has a 75% to 90% percent dropout rate. SEAL training includes demolitions, cartography, scuba, parachuting and hand-to-hand combat. Philippine SEALs train regularly with their American counterparts in an annual amphibious exercise codenamed "Palau". In 1996, Filipino and American SEALs trained in Palawan island near the Spratly islands.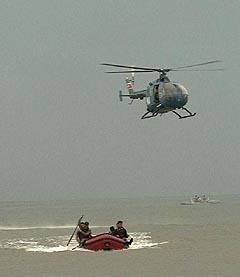 Philippine Navy SEALs on-board a Zodiac speedboat being escorted by a BO-105C helicopter of the Philippine Navy-Naval Air Group(NAG).
Naval Reserve forces are composed of three(3) Ready Reserve(RR) Naval Squadron Battalions and ten(10) Standby Reserve(SR) Naval Squadron Battalions.
If necessary, the Philippine Marines and Philippine SEALs can call on the Philippine Army Special Operations Command(SOC) composed of over 6,000 elite troops divided into the Philippine Army Scout Ranger Regiment(SRR), the Special Forces Regiment(SFR), the Psychological Operations Group(POG) and the Special Operations Group(SOG). The "Delta Force" of the Philippine Army is the elite "Alpha Two Zero" or A-20 trained in counter-terrorist operations.
Under the Special Forces Regiment(SFR) of the Philippine Army is the 1st Riverine(SF) Battalion equipped with 50 footer fast assault boats. This Special Forces seaborne battalion works together with the Seaborne Brigade of the 1st Infantry(Tabak"Machete") Division. Both Army seaborne units are based in the Sulu archipelago near the Spratly islands.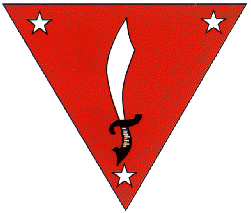 Machete logo of the 1st Infantry(Tabak"Machete") Division, Philippine Army based in Jolo and Zamboanga, Mindanao island.

Armored Vehicles of the Philippine Army Light Armored Regiment(PALAR) on field Manuevers. To the left is an Armored Infantry Fighting Vehicle(AIFV) equipped with a 25mm automatic cannon and to the right are several Scorpion Amphibious Tanks.
Philippine Army troopers with anti-tank rockets marching past.
Other rapid deployment groups include the three(3) elite units of the Philippine National Police(PNP), a paramilitary organization. This are the Special Action Force(SAF) divided into fifteen(15) Regional Mobile Groups(RMG) tasked with unconventional warfare operations, the Maritime Group(MG), tasked with police operations in Philippine seas and rivers and the Aviation Security Group(ASG) tasked with anti-hijacking missions.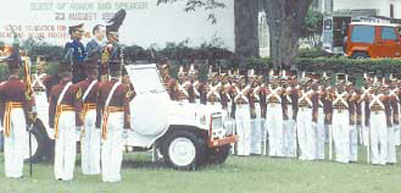 Philippine National Police Troopers during parade review.
The rapid deployment force of the Philippine Air Force(PAF) is the 710th Special Operations Wing divided into ten(10)-man airborne attack teams. Supporting units include the Air Commando Squadrons of the 15th Strike Wing under the Tactical Operations Command. Its official mission is to "conduct contingency operations against hostile elements".
Flying Machete Logo of the Philippine Air Force(PAF) Tactical Operations Command also known as the "Air Warriors".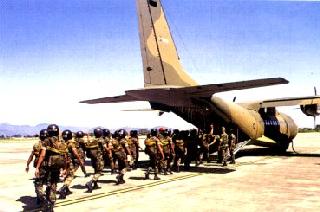 Philippine Air Force Paratroopers boarding a C-130 Transport Aircraft for a mass jump.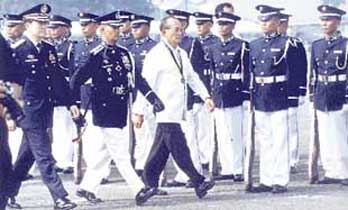 Philippine Air Force(PAF) troopers being inspected by the Commander-in-Chief.
If the situation is still fluid, then the Philippine army will send in its three(3) newly created Rapid Deployment Divisions believed to consist of the 3rd, 4th and 7th infantry divisions.
Starting in 1997, a big group of southern Philippine Moslem tribesmen numbering 7,500 men will be trained and organized into infantry battalions. This are the same muslim tribesmen that gave United States troops a difficult time at the turn of the century because the American .38 caliber pistols could not stop their frenzied machete attacks. As a result the .45 caliber pistols had to be issued. The first batch of 1,500 tribesmen just recently finished basic training this year with the rest of the tribesmen to be trained in successive batches. There are speculations that this newly organized 7,500 man group will be used, possibly, as another shock force.
When the threat level reaches a certain threshhold, the Philippine Army will mobilize its eight(8) Ready Reserve(RR) divisions composed of the 1st(Tabak"Machete"), 2nd(Jungle Fighter), 3rd(Spearhead), 4th(Diamond), 5th(Star), 6th(Kampilan"Sword"), 7th(Kaugnay"United") and 8th(Storm Trooper) Infantry Divisions as well as fifteen(15) Standby Reserve(SR) Infantry Divisions.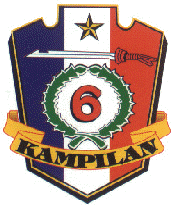 Sword logo of the 6th Infantry(Kampilan"Sword") Division based in Cotabato, Mindanao island.
Supporting the Armed Forces of the Philippines(AFP) and the Philippine National Police(PNP) are the Philippine civil security(Blue Guard) forces consisting of 226,000 men trained for close-combat street fighting and the 55,000 man CAFGU(Territorials) Force of the Philippine Army.
Finally, the Philippines has a Mutual Defense Treaty(MDT) with the United States that it can invoke if the situation becomes uncontrollable.
Philippine Marines(PM) Armaments:
armored amphibious LVTP-5s with .50 caliber machine guns
LVT-5 Armored amphibious vehicles making a beach landing. This amphibious vehicles are also in service with the Philippine Marines.
armored amphibious LVTH6s with 105mm howitzers(self-propelled)
armored amphibious V-300s with 90mm guns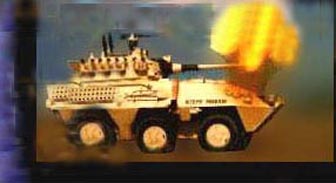 Cadillac V-300 Commando amphibious Fire support Armored Vehicle(FSV)
of the Philippine Marines firing its 90mm gun
armored amphibious V-300s with 20mm Vulcan cannons
armored amphibious V-300s with .50 caliber machineguns
one hundred fifty(150) M-101 105mm howitzers
A battery of M-101 105mm howitzers bombarding enemy positions.
81mm and 107mm mortars
90mm and 106mm anti-tank recoiless rifles
LAW anti-tank missiles
Example of a .50 caliber heavy machine gun used by the Philippine Marines
PAF AND PNP troopers pictures copyright of Manila Bulletin. .50 caliber gun copyright of U.S. Marine Corps page. Philippine Marines in Manila Bay copyright of Asiapix web page. B&W photo of Commando vehicle copyright of Broadsword.com web page. Color photo of Commando vehicle copyright of AFP network. Philippine Army troopers photo copyright of Filipino Express. 105mm howitzers and LVT-5 photos copyright of shwv image library page. Armored Vehicles copyright of PMA class 1993 web page. Tactical Operations Command logo copyright of the Philippine Air Force. 1st and 6th Infantry Division logos copyright of Philippine Army. Paratrooper photo copyright of Philippine Air Force. Armoured Vehicles copyright of AsiaWeekNewsService.