Naval News Bulletin #5

Philippine National Police Maritime Commmand
(MARICOM)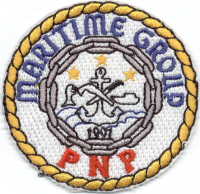 Police Maritime Command Coat of Arms
The Philippine National Police(PNP), a 120,000 man strong paramilitary organization, recently formed a seaborne unit. Known as the Maritime Command(MARICOM), it is the operational support unit of the Philippine National Police(PNP) assigned to perform all police functions over Philippine territorial waters and rivers. The police maritime group and the Philippine Coast Guard(PCG) works together with the Philippine Navy(PN) to secure Philippine territorial waters. In the late 1990s, the Maritime Command(MARICOM) had 1,300 men with over thirty six(36) patrol boats based in 51 Maritime Stations that operate under 13 regional maritime police offices. By the middle of 2002, the MARICOM has grown to 2,000 men operating 99 patrol boats including about 50 high-speed motorized outriggers(bancas) and 5 speedboats.

National Police coat of arms
Director General Recaredo Sarmiento II
Commander of the Philippine National Police(PNP)
Among its recent equipment acquisitions were Israeli Jericho pistols, Heckler-Koch HK MP5 submachine guns, Eurocopter(Ecureil) and Robinson helicopters, microwave communications network as well as Australian Sharkcat speedboats capable of speeds of up to 40 knots. This Australian speedboats are also in use by the Australian Army, Australian Police and Hongkong Police.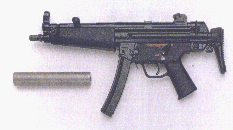 Heckler-Koch(HK) MP5 Submachine gun used by the Philippine National Police(PNP)
There are plans to acquire additional equipment under the 48 billion peso Police modernization program including 28 patrol aircraft and 68 large patrol boats as well as expand the Philippine National Police(PNP) to a 150,000 men.

Philippine National Police Highway Patrol.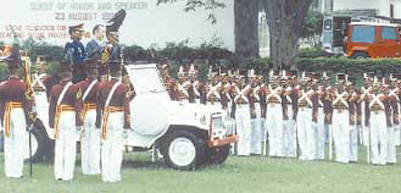 Philippine National Police Troopers during parade review.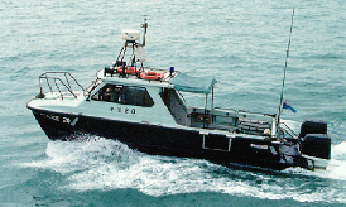 Sharkcat Police Speedboat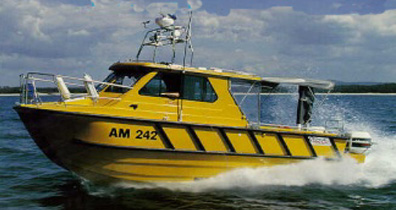 Sharkcat Army Speedboat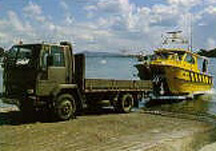 A Sharkcat Army Speedboat being towed by an army truck.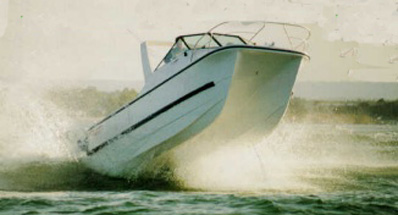 Sharkcat Speedboat at high speed.
SharkCat police boat photo copyright of the Royal HongKong Police Force. SharkCat Army boats and high speed photos copyright of Noosa Cat Australia home page. PNP troopers photo copyright of Manila Bulletin. Coat of arms drawing and Director General photos copyright of Leo Seron. Police Highway patrol photo copyright of PNP Traffic Management Group. HK MP-5 gun copyright of U.S. Marine Corp page.