Naval News Bulletin #4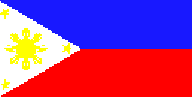 Recent Philippine Navy ship purchases between 1993 and 1998 included the following: Two(2) Frank Besson class 4,200 ton amphibious transports (1993-1994), Two(2) Philippine-made large patrol gunboats, 279 tons (1995-1998), Twelve(12) South Korean Sea Killer 74-ton patrol gunboats (1993-1994), Six(6) South Korean Sea Dolphin 170-ton patrol gunboats (May 1995) and Twenty Four(24) Halter Marine 56-ton patrol crafts(1996-1998). Supposedly, between six to eleven of these Halter Marine patrol craft will be armed with MM.15 SSM or ROCKWELL Hellfire missiles
An example of the South Korean 121 footer Sea Dolphin patrol gunboat in service with the Philippine Navy. It is armed with one(1) single-barreled 40mm Bofors anti-aircraft gun, one(1) double-barreled 30mm Emerlec anti-missile gun and two(2) Oerlikon 20mm anti-aircraft guns. It has a top speed of up to 40 knots.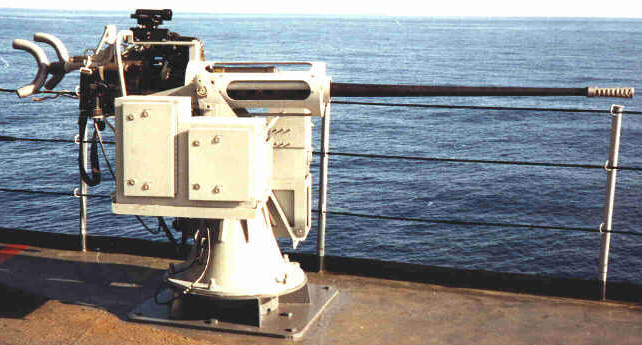 This is an example of a MK38 25mm automatic cannon installed on a number of the Philippine Navy Halter-Marine 56 ton patrol craft. This cannon can fire either single shot or 200 rounds/minute up to 6,000 meters.
A 78 footer Halter-Marine patrol boat in service with the Philippine Navy. It carries one(1) 25 mm automatic cannon, four(4) 12.7mm heavy machineguns and two(2) 7.62mm light machineguns.
Jane's Defense Weekly reported details on future ship purchases in early September. For the years 1996 to 2000, there is a P3.5 billion peso overhaul program for 10 large vessels--4 transport ships, 1 repair ship, 1 multi-mission vessel and 4 patrol ships. The overhauls include replacing main and auxiliary engines, enhancing electrical systems, making structural improvements and new fire-control, weapons, and anti-ship missile systems.
Specific ships to be overhauled were not mentioned, but may include four(4) Barnegat-class 2,800 ton frigates dating back to WWII and laid up in the late 1980s; one Achelous-class 4,300 ton repair ship, also laid up in the late 1980s; and the Type 511 or Type 512-1152 LSTs, of which the Philippine Navy had 24 examples in the 1980s.
The single "multi-mission vessel" may refer to one of the two Cannon-class DEs, the Savage Class DE radar picket, or to the 2,700 ton Presidential Yacht, the "El Presidente"(Ang Pangulo) which was used as a reconnaissance ship during the Spratly crisis earlier this year with Communist China.
Finally, due to the vastly improved Philippine economy, the Navy was able to get a new weapons and ships purchase budget for the 15 year period 1996 to 2010 of $5.5 billion dollars.
For the years 1996 to 2000, there are P12.4 billion pesos earmarked to buy brand new ships, including one(1) mine countermeasures (MCMV) ship; two(2) search and rescue(SAR) 56 meter ships; six(6) fast attack craft(FACs) with short-range SSMs; two(2) fast attack craft(FACs) with medium-range SSMs; three(3) offshore patrol vessels(OPVs), and two(2) guided missile corvettes.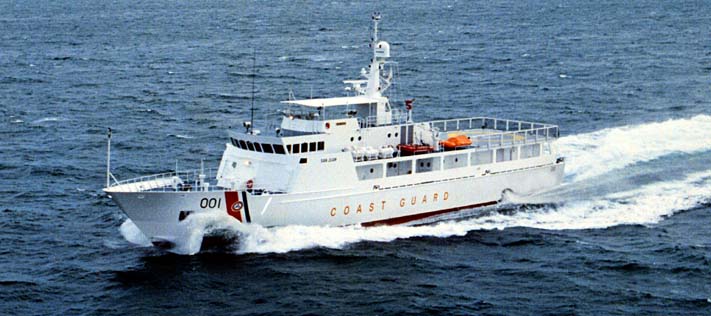 One of the two Search and Rescue(SAR) ships, the BRP San Juan(SAR 001), built by Tenix of Australia now in service with the Philippine Coast Guard(PCG). These 56 meter long SAR ships have a 807 ton displacement and come equipped with a helicopter deck over the stern for Bell or Sikorsky helicopters. These ships also carry six(6) rescue boats for 65 persons each, one(1) interception boat and four(4) SOLAS life-rafts each capable of loading 25 persons. They have a speed of up to 24 knots, a range of 2,000 miles and can carry 300 survivors during a SAR mission or more than 300 troops on a troop lift mission.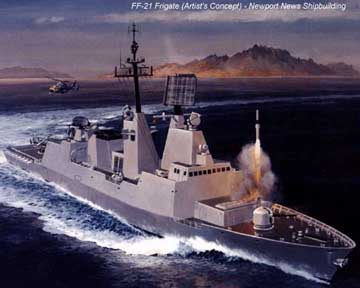 The FF-21 Frigate is one of the ships being offered for sale to the Philippine Navy. It comes in several lengths including 85 meter, 125 meter and 150 meter versions.
For the years 2000 to 2010, plans include purchases of thirty-three(33) more missile patrol craft(FACs), nine more OPVs, two(2) more MCMVs, four(4)more SARs, four(4) Amphibious Transport ships, four(4) more guided missile corvettes, and three(3) guided missile frigates.
The ship purchases are made possible even though the budget is small because most of the ships will be built in the Philippines using domestic navy shipyards and low cost labor (including naval personnel), along with technology transfers.
NOTE:This Information came from open unclassified public access sources, and is also available at the www page of the "International Naval Studies Group(INSG)".
25mm gun picture copyright of Keith's photo album. SAR ship copyright of Tenix Shipbuilding of Australia courtesy of Mr. Fraser. FF-21 frigate drawing copyright of Newport News Shipbuilding. Halter-Marine patrol boat copyright of Halter-Marine web page. Sea Dolphin gunboat photo from ROK navy photo gallery web page.