Naval News Bulletin #3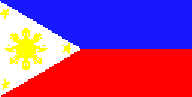 The Philippine Navy conducted at least four(4) major exercises in 1994:
Twenty one(21) newly overhauled ships participated in Exercise Subok I (Test I), conducted in the area of Mindoro Island in May, 1994.
Philippine Navy Corvettes during a naval exercise.
Combined Army, Air Force, and Naval forces participated in Exercise Pawikan (amphibious turtle), in the Palawan and Spratly Islands, July, 1994.
Vice-Admiral Eduardo Ma. Santos, Philippine Navy Chief, viewing his ships
Forty(40) ships, fifteen(15) aircraft, and one(1) battalion of Philippine Marines participated in Exercise Subok II (Test II), between 9 Sept and 11 Sept. in the Lingayen Gulf, Northern Philippines
Three(3) Philippine Navy ships on exercise including two(2) 4,000 tonner amphibious ships being escorted by a Corvette.
Thirty(30) ships, eight(8) planes and four(4) helicopters participated in a second major exercise in the Lingayen Gulf in December, 1994.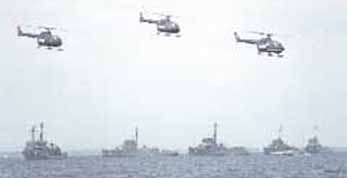 Philippine Navy corvettes on patrol accompanied by BO-105 helicopters overhead.
In early 1995, a clash erupted between elements of the Philippine Navy and the People's Liberation Army Navy (Communist China) over the disputed 200 Economic Exclusion Zone (EEZ) near the Spratly islands. Philippine Marines and frogmen blew-up Communist naval scaffoldings, structures and markers at five reefs - the Thomas I and Thomas II shoals, Half-moon shoal, Pennsylvania reef, and another unnamed reef 6 miles from Thitu island.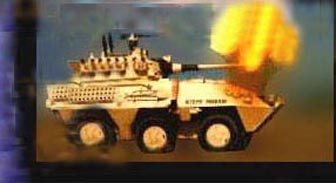 Cadillac V-300 Commando amphibious Fire support Armored Vehicle(FSV)
of the Philippine Marines firing its 90mm gun
Another incident flared up in the Spratly islands in early 1995 when a Communist Chinese spy vessel cut across the bow of a Philippine Navy ship, the 4,000 ton LST 512-1152(RPS Benguet), to try to hinder its photo-reconnaisance mission. The Filipino ship was launching its two UH-1H helicopters for photo flights over the Communist platforms when the incident occurred. A total of seven(7) helicopter sorties were launched with the Huey choppers flying as low as 30 feet over the Communist structures.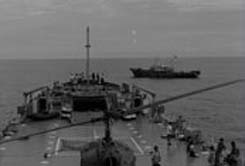 The RPS Benguet with one of its UH-1H helicopters visible in the foreground. Cutting across its bow is the Communist vessel.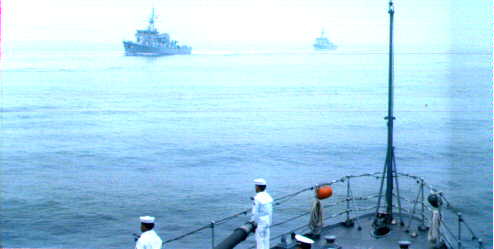 The three(3) Peacock Class Corvettes of the Philippine Navy on maneuvers off the foggy Zamboanga coast in Mindanao island, Southern Philippines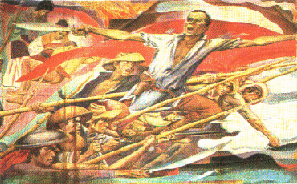 A depiction of Filipino troops launching an attack
using machetes and spears.
Mural drawing copyright of Philippine Centennial page. Tank picture copyright of AFP Network. RPS Benguet picture copyright of AsiaPix Network. Patrolling ships picture copyright of Manila Bulletin. Vice-Admiral Santos picture copyright Manila Bulletin. Three Peacock ships copyright of Zamboanga.org web page. Philippine fleet ships copyright of the Philippine Navy.