Naval News Bulletin #2

Philippine Navy Amphibious Transport: These ships can be divided into 4 categories for purposes of discussion:
1.Traditional LST type ships. According to Jane's Fighting Ships 1995-96, the Philippines operated sixteen(16) medium to large transport ships. This includes seven(7) LST 512-1152 4,080-ton Ex-WW II transports, two(2) Frank Besson 4,265-ton transports, one(1) Japanese-made 2,727 ton attack transport, the "El Presidente"(Ang Pangulo), one(1) Alamosa 7,570-ton Ex-WW II transport, one(1) Balsam 1,041-ton Ex-WW II tender, and four(4) Ex-U.S. Army (FS 381) 950-ton tenders. There are also about 40 assorted LCM/LCUs. Due to the ongoing ship-overhaul program of the Philippine Navy, the number of LST-type ships reported by Jane's Fighting Ships may be underestimated.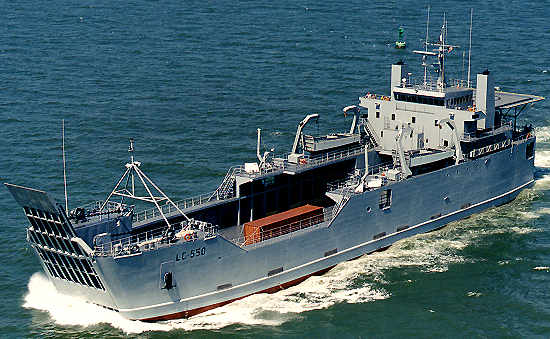 This is the 4,265 ton BRP Bacolod City, a Besson Class Logistic Support Amphibious ship of the Philippine Navy. It has a bow ramp for landing troops and vehicles. In the stern is space for the transportation of up to 150 troops and also a helicopter platform for a light helicopter is built over the stern of the vessel.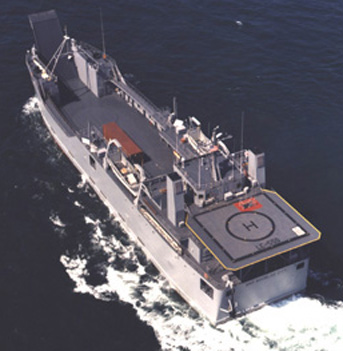 Aerial view of the BRP Bacolod City, a Besson Class Logistic Support Amphibious ship. Shown clearly over the stern is the helicopter platform for a light helicopter.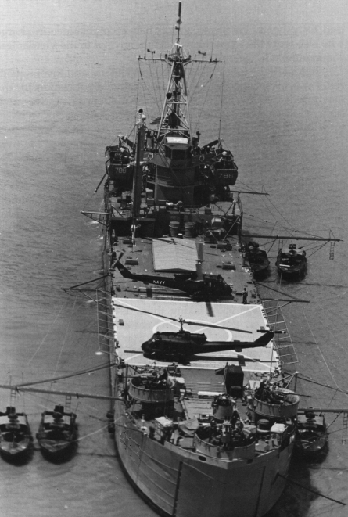 This is the ex-USS Garrett County now in service with the Philippine Navy as the BRP Kalinga-Apayao. This 4,080 ton LST 512-1152 amphibious ship and its sister vessels have been modified by the Philippine Navy to serve as mini-helicopter carriers, each with two(2) UH-1H helicopter gunships amidship. It is armed with six(6)Bofors 40mm anti-aircraft guns.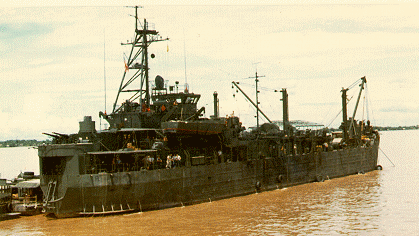 Side view of another 4,080 ton LST 512-1152 amphibious ship.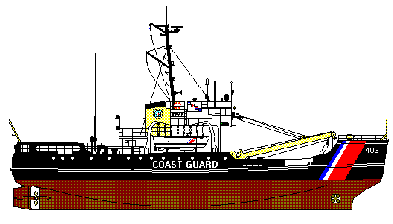 Drawing of the Balsam class ship, a 180 footer.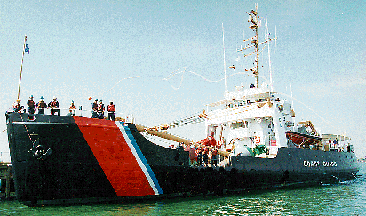 The 1,041 ton Balsam class ship. A helicopter deck has been installed on the Philippine Navy version. Usually, it carries a 20mm gun and two 12.7mm heavy machineguns. During wartime it can also carry a 76mm gun.
2.Halter Marine Patrol Craft. According to Marine Log magazine, March & July 1995, as well as Jane's Fighting Ships 1996-97, the Philippine Navy will have nineteen(19) Halter Marine 78-footer patrol craft by the end of 1996. Curiously, these patrol craft each carry a "Zodiac" type assault boat, and a tiny crane to lower the "Zodiac" into the water. The Zodiac boats can carry from 6 to 8 lightweight Philippine Marines or SEAL troopers. Furthermore,early this year, Jane's Defense Weekly reported that the MM.15 missile was installed and successfully test-fired from one of these Halter Marine craft at speeds of 30 knots.

3.The Philippine Navy operates motor-powered native outriggers(see picture) to transport ground troops as a cost-saving measure and for unconventional warfare operations. They are similar to the ones used by other Pacific islanders in Hawaii & Tahiti. The number of outriggers operated is unknown, but in one operation in mid-1995, Philippine Constabulary troopers from Jagna (Bohol island, Central Philippines) used thirty(30) motor-powered outriggers to search for illegal fishermen.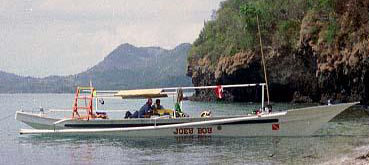 A motor-powered native outrigger
4. The Naval Auxiliary transport fleet of the Philippine Navy composed of the various Filipino shipping companies includes about thirty eight(38) modern fast ferries such as the 41 meter Supercat ferry plus hundreds of miscellaneous passenger and cargo ships. The Philippine Navy Auxilliary is currently organized into eighty eight(88) Reserve Units divided further into naval auxilliary squadrons. These shipping companies have also embarked on a massive expansion of their fast ferry fleet including construction by Aboitiz Inc. of the bigger and faster 45 knot Tricat ferries in Cebu island, central Philippines.
This forty one(41) meter long Marinteknik SuperCat fast ferry can carry over 300 troops at a speed of 36 knots. This ship and its sisters are operated by Aboitiz Co. of Cebu island, Central Philippines.
Besson Class pictures copyright of http://www.naval-technology.com and Halter-Marine. Native Outrigger photo copyright of Chuck Gardner. Color photo of LST copyright of Riverine Navy in Vietnam web page. Black and white LST ship picture copyright of SHWV image library page. Balsam class drawing and picture copyright of U.S. Coastguard. Super Cat ferry picture copyright of Aboitiz Equity Ventures. Fast ferry totals and figures are for 1997. Naval Auxilliary figure is for 1998.