Naval News Bulletin # 1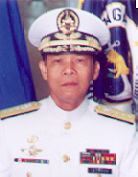 Vice-Admiral Victorino S. Hingco
Between July, 1993, and December, 1994, the Philippine Navy conducted major overhauls of forty-six mothballed warships at the Cavite Naval Base. The breakdown was as follows: July 1993 - August 1994: Thirty-four(34) vessels, including fifteen(15) patrol boats. August - December 1994: Eight(8) larger vessels. 1993 - 1994 (months unknown): Four(4) large patrol craft, PG 101, PG 102, PG 104, and PG 140 underwent an overhaul which included the modernization of their twin 30mm EMERLEC guns.
In 1995, five more ships were scheduled for overhaul: Cannon-class (destroyer escort) PF 11, Barnegat-class (frigate) PF 7, Two(2) Auk-class (corvettes): PS 70 and PS 74,and a Balsam-class (tender) AG-89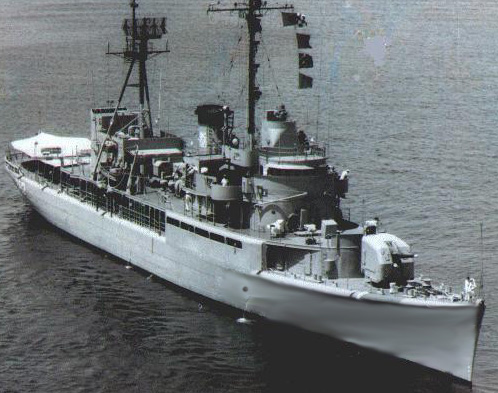 The 2,800 ton Barnegat class frigate. The Philippine Navy version, the BRP Andres Bonifacio(PF 7) carries a 127mm/38 dual-purpose rapid-fire cannon, four(4) 40mm anti-aircraft guns, two(2) 20mm anti-aircraft guns, four(4) 12.7mm heavy machineguns and a helicopter platform in the stern for one(1) German Messerchmitt-Bolkow-Blohm(MBB) BO-105 helicopter.
The Barnegat-, Auk-,and Balsam-class vessels have been modified to include helicopter decks. The overhaul work on all of these ships was carried out with assistance from Hatch & Kirk and involved tearing down the ships' engines to measure parts that needed replacement. After their overhauls, the ships were reportedly running like "new".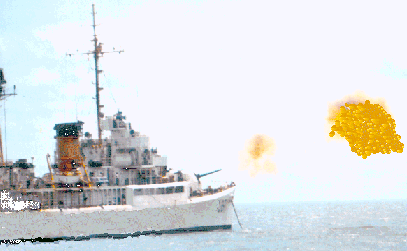 A side view of a 2,800 ton Barnegat class frigate firing its 127mm/38 rapid-fire cannon.
The BRP Andres Bonifacio(PF 7), a Barnegat-class frigate of the Philippine Navy.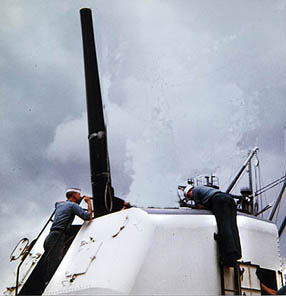 The 127mm/38 rapid-fire cannon installed on the Barnegat class frigate pointing skyward.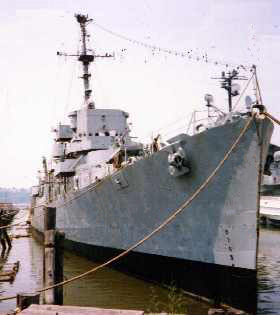 An example of the 1,750 ton Cannon class Destroyer Escort. The Philippine Navy version, the BRP Rajah Humabon carries three(3) 76mm rapid-fire cannons, six(6) 40mm Bofors anti-aircraft guns, two(2) 20mm Oerlikon anti-aircraft guns, one(1) Hedgehog anti-submarine mortar with twenty four(24) rockets and eight(8) K-gun anti-submarine depth charge projectors.
Old photo of a Cannon class Destroyer Escort conducting sea trials.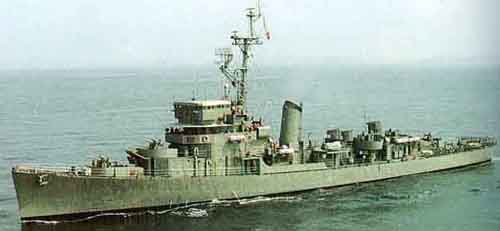 A Cannon class Destroyer Escort on sea patrol.
The Philippine Navy also has a joint hovercraft research project(see picture) with the Philippine Air Force(PAF) and the Department of Science and Technology(DOST).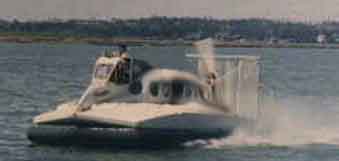 This 36 footer amphibious hovercraft can carry 20 troops at a maximum speed of 55 knots.Endurance or fuel capacity for this amphibious vessel is 5 hours

Hovercraft Photo courtesy of DOST. Barnegat class photo copyright of PhotoLab97 Coast Guard web page. Barnegat ship with gun firing and close-up of the 127mm/38 gun copyright of Coast Guard Warriors web page. BRP Andres Bonifacio photo from RVN web page. Front color view of Cannon class ship copyright of USS Slater(DE-766) home page. 1940s photo of Cannon class ship copyright of U.S.S. Slater page. Sea patrol cannon ship copyright of Royal Thai Navy.