History of the Philippine Navy(circa 1898)
The following is a Verbatim Excerpt from Jose Velasco's article "Philippine Navy turns 98" in the June 3, 1996 issue of "Philippine Graphic" magazine:

The country's seaborne defense arm traces its roots to the revolutionary era, according to reports compiled and written by Commander Cesar Estrada, a naval historian. General Emilio Aguinaldo apparently realized the wisdom behind Dr. Jose Rizal's counsel to Andres Bonifacio that, in order to wage a successful revolution, a navy was necessary. (Bonifacio had turned down Rizal's advice and staged the revolution without a navy.)

The Biak-na-bato Constitution, framed on November 1897 which installed Aguinaldo as president did not originally provide for a navy. However, two articles that were not then included in the original fundamental law where later inserted in the Constitution. One of these, Article XXXIII, states that : "When the necessary army is organized, a navy shall be created for protection of the coasts of the Philippine Archipelago and the seas; then, a Secretary of the Navy shall be appointed and the office shall be added to this Constitution."

General Aguinaldo must have inserted this article while he was buying arms to equip his revolutionary army. Aside from an order for 2,000 rifles and 200,000 rounds of ammunition, Aguinaldo emphatically made an order for a motor launch to be used as nucleus of an "interisland transport system" in the war against Spain. Apparently , Aguinaldo was programming in his mind his future campaign in the Visayas.

When he returned to Manila from Hongkong on board the McCulloch, a U.S. Guard Cutter attached to Admiral George Dewey's fleet, Aguinaldo visited Dewey aboard his flagship, the Olympia, and broached his plan to put one of the old smooth bore Spanish guns he found in Cavite on a barge and have it towed by Dewey's ship in front of Intramuros so he could attack the Walled City. Admiral Dewey demurred saying, "Oh no, we can do nothing until our troops come."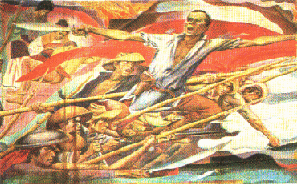 A depiction of Filipino troops launching an attack using machetes and spears
Instead of acceding to Aguinaldo's request, Dewey gave the latter a steam pinnace, a smaller but fast boat tender retrieved by the Americans from the Spanish Admiral Montojo's man o'war, the Reina Cristina, one of the ships of the Spanish Armada. This steam launch was just what Aguinaldo wanted most at the moment.

Aguinaldo was overjoyed as soon as he officially accepted the pinnace and christened it Magdalo in honor of his group in the Katipunan during the Tejeros Convention. A pinnace in Europen navies could be a pulling or powered caravel-built boat over 30 feet long. After the turnover of the ship's crews to the Filipinos, Aguinaldo hoisted the Filipino flag, and Dewey allowed the Magdalo to ply freely from coast to coast. This launch serviced General Aguinaldo who established his temporary headquarters in Cavite near the arsenal.

Admiral Dewey who did not attach any significance to the display of the Filipino flag gave the Filipino rebels the liberty to enjoy his prized gift. However, the German fleet commander protested to the flying of the "insurgent" flag in Philippine vessels. Thus, it was perceived that the Filipino flag was recognized by the world. Soon, thereafter, other steamboats hoisted the Filipino flag in their masts.

After regrouping in Cavite, Aguinaldo formed the dictatorial government on May 24 and the 28th of the same month the historic battle of Alapang broadcasted to the world the valor and elan of Aguinaldo's forces. Having proclaimed himself dictator of the newly-established government, generals and other leaders visited Aguinaldo at his headquarters and offered their services in the renewed struggle for independence.

On May 31, the date General Aguinaldo set to formally commence the second phase of the fight against Spain, many shipowners and shipmasters saw him and offered their maritime services. One of these was Ship Captain Simplicio Agoncillo Orosa. He was in command of the steamboat "Bulusan" which plied between Lemery , Manila and Calapan in Mindoro. Captain Orosa brought some supplies to the government and General Aguinaldo asked him to place his ship under the control of the revolutionaries to become part of the envisioned "Mosquito Fleet."

While General Aguinaldo was busy restructuring the revolutionary government, eight Spanish steam launches were renovated at the Cavite arsenal and fitted with guns. These were augmented with the ships of the merchant marine of larger tonnage.

Among these were the Taaleņo, Balayan, Taal, Batangas, and Purisima Concepcion donated by their rich owners, Leon Apacible and Manuel Lopez. All the boats were fitted with guns taken from damaged Spanish ships of the squadron of Admiral Montojo.

All the ships were flying the Filipino flag that was designed by the Hongkong Committee and Doņa marcela Agoncillo, assisted by Mrs. Herbosa de Natividad, a niece of Dr. Jose Rizal. The same flag was also borne by ground troops in their campaigns and by the flotilla carrying General Aguinaldo's dispatches and troops to the southern islands. (The Birth of the Navy of the Revolution; Prof. Regino Dodds Giagonia, MNSA).


Note:Mural drawing copyright of Philippine Centennial page,