Philippine Army Seaborne Forces:
<![if !supportEmptyParas]> <![endif]>
The Philippine Army seaborne forces had its origins in the 1970s when a special coastal waters unit was organized to patrol southwestern Mindanao(SOWESCOM), an area known for its more pronounced archipelagic and littoral geography compared to the rest of the Philippines. The littoral nature of the island groups of Tawi-Tawi, Sulu, and Basilan made the SOWESCOM area of operations a natural haven for pirates, seajackers, kidnappers, rebels, and arms smugglers.
<![if !supportEmptyParas]> <![endif]>
The army maritime group then known as the Philippine Army "Seaborne Brigade" was primarily equipped with camouflaged motorized outriggers(bancas). Today, the army amphibians are better known as the elite riverine units of the Philippine Army Special Operations Command(SOCOM).
<![if !supportEmptyParas]> <![endif]>
<![if !supportEmptyParas]> <![endif]>
<![if !vml]>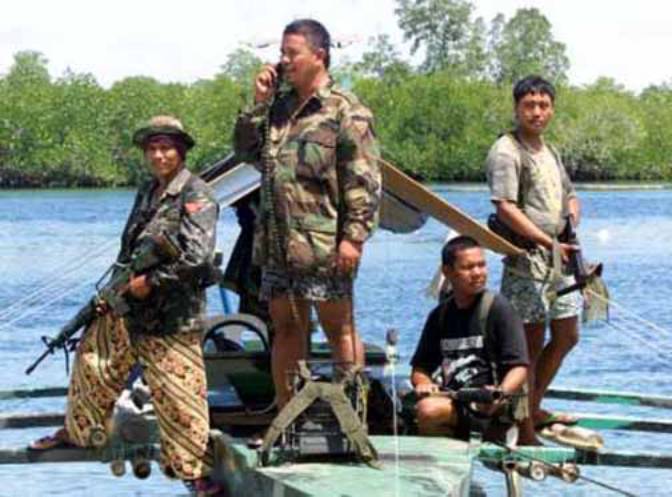 <![endif]>
The missions officially assigned to the army riverine forces include inter-island and ship to shore operation, interdiction, intercept and intervention operation, narrow and shallow water operation, re-supply and ex-filtration, search, recovery and rescue operations and Special Forces waterborne operations.
The current deployment and strength of the riverine forces is not fully known yet, although, most certainly, the two biggest units are the 1st  Special Forces Riverine Battalion(SFRBn) based in Talisay, Zamboanga city, and the 2nd Special Forces Riverine Batallion based in Sultan-Sa-Barongis, Maguindanao province.
The 1st SFRBn had 20 patrol crafts in mid-2001 including 2 fiberglass speedboats with 60 HP engines, three(3) wooden thirty four footer motorized outriggers(bancas),  two(2) steel fifty footer assault boats, and four(4) speedboats that can each carry twelve(12) soldiers with full combat load at a speed of 35 knots.
The 2nd Riverine Batallion's area of operations includes the Liguasan Marsh in southern Mindanao, one of the largest marshes in Asia.
There are plans to create a 3rd Riverine batallion to bring back the Philippine Army's "Seaborne Brigade". See also the article "THE SEABORNE BRIGADE CONCEPT" in http://www.army.mil.ph/E-Publications/Army%20journal/Articlefeatures.htm
The riverine boats are painted in either olive green or camouflage colors. At least 2 of the boats are of bigger displacement. One of the boats appears to be a converted LCU painted in camouflage colors with a glass-windowed bridge. Another "big" boat also in camouflage colors appears to be a patrol craft type of up to 300 ton displacement. Stencilled on the bridge are the words "Special Operations Command, Philippine Army".
<![if !supportEmptyParas]> <![endif]>
<![if !vml]>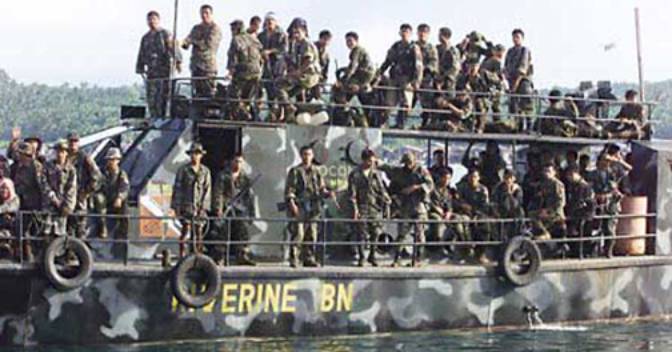 <![endif]>
During seaborne operations against the Abu Sayyaf rebel group in April 2002, the Zamboanga army riverine units clashed with 16 rebels on board a pump boat, killing 13 of the terrorists and wounding their leader Sattar Yacub in the coastal waters of Brgy Talisayan, Zamboanga city. The rebel group came from Tuburan,Basilan, and was trying to slip to Zamboanga del Norte to escape intense military pressure on Basilan Island. Although, commander Yacub was able to escape, he was later captured near Zamboanga City about a month later. Six(6) of the riverine boats were later involved during mid-2002 in the search for the dead body of Abu Sabaya, an infamous rebel commander.
<![if !supportEmptyParas]> <![endif]>
<![if !supportEmptyParas]> <![endif]>
<![if !vml]>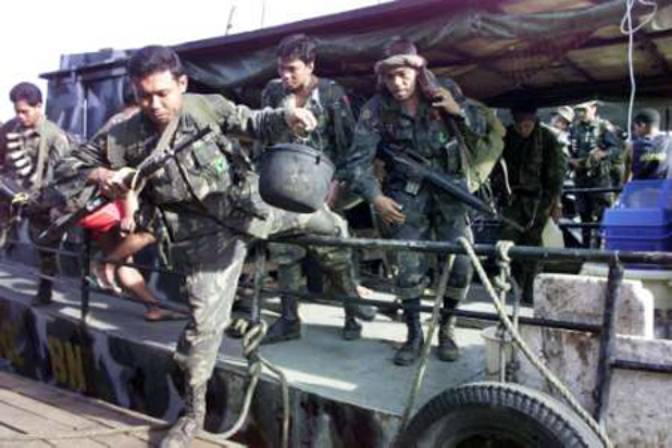 <![endif]>
<![if !supportEmptyParas]> <![endif]>
For example, in mid-2002, fourteen(14) soldiers of the of the 34th Special Forces Riverine Company, 56th Infantry Batallion were patrolling a river near Paombong town in Bulacan province north of Manila aboard two motor boats when they were ambushed by some forty(40) New People's Army(NPA) rebels positioned on both banks of the river. Five New People's Army(NPA) rebels and four soldiers were killed. The 34th Special Forces Riverine Company was ordered to conduct waterborne patrol operations following complaints that the guerrillas of the NPA's so-called naval group were conducting extortion activities in the area. The rebel naval group used to have a strong influence in the coastal areas of Bulacan, including those in the adjacent towns of Malolos and Hagonoy. The ambush of the Army Riverine company happened a week after  Philippine Army units overran an NPA rebel training camp in Zambales province east of Manila that contained 19 huts and 3 buildings.
<![if !supportEmptyParas]> <![endif]>
<![if !supportEmptyParas]> <![endif]>
<![if !supportEmptyParas]> <![endif]>
NOTE: Photos of the Philippine Army Riverine patrol crafts copyright of AP.
<![if !supportEmptyParas]> <![endif]>